In Memory
Rick Seeley III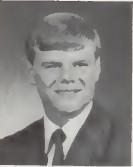 Richard Seeley III, age 66, of Valparaiso, passed away Wednesday, November 14, 2019, at Porter Memorial Hospital in Valparaiso. He was born in Gary, Indiana on September 1, 1953 to the late Richard and Marilynn (Nee Erickson) Seeley Jr.. He retired from International Labor Union 81, where he worked as a foreman. He will be remembered as a loving brother, uncle and friend.
Richard is survived by his sister, Diane (John) MacDonald; brother, Ronald (Kathryn) Seeley; two uncle's, John "Jack" (Lois) Erickson and Robert (Phyllis) Erickson; two nieces, Jill MacDonald and Carol Anne (Allen) Pinkett; four nephews, Michael (Jennifer) MacDonald, Ronald Seeley, Jacob (Kristin) Seeley and Jeffrey (Lauren) Seeley, many great nieces and nephews; dear friend, Brenda Courtney and many other loving family members and friends
He was preceded in death by his parents.
In lieu of flowers donation to St. Bridget Church 107 Main Street, Hobart, Indiana 46342 and JDRF.org. (Juvenile Diabetes Research Foundation) in Richard's memory would be appreciated.
A funeral service will take place Thursday, November 21, 2019 at 12:00 pm with Rev. Dominic Bertino officiating at Rees Funeral Home, 600 W. Old Ridge Rd. Hobart, IN 46342. Friends may gather with the family on Thursday from 10-12 pm at the funeral home. Cremation will follow.